It shall come to pass in the latter days that the mountain of the house of the Lord shall be established as the highest of the mountains, and shall be lifted up above the hills; and all the nations shall flow to it, and many peoples shall come, and say: Come, let us go up to the mountain of the Lord, to the house of the God of Jacob, that he may teach us his ways and that we may walk in his paths.
Isaiah 2:2-3
TBN Interview with Max Greiner, Jr.
Broadcast of "Praise The Lord" in San Antonio, TX
(10/15/10)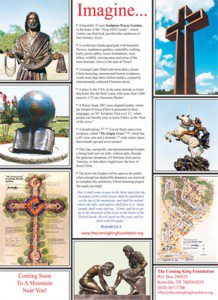 Sculpture Prayer Garden Ad
Click to download a printable high resolution PDF. Please feel free to distribute and reproduce at will.
Sculpture Prayer Garden Presentation
Given by TCKF President, Max Greiner Jr. (4/25/11)

Site Plan